Dryanovo Municipality and FC "Lokomotiv 1927" Dryanovo will host the 7th edition of the Children's Football Tournament for the Cup of Dryanovo Municipality. The Municipality publicized this information through their official Facebook account.
From September 7 to 10, Dryanovo City will meet hundreds of participants from all over the country who will measure forces on the excellent terrain in the town of Dryanovo and the village of Tsareva Livada.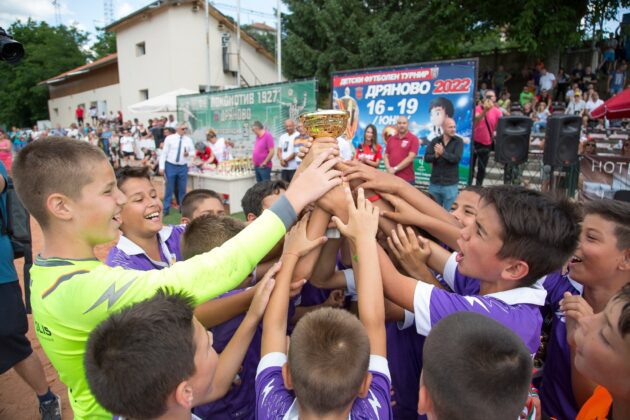 Over 32 teams are expected to be distributed into four age groups – born in 2012, 2013, 2014 and 2015; the Municipality emphasizes that, like every year, prizes are guaranteed for all participants in the tournament and special rewards will be given to the winners.
The organizers are the Municipality of Dryanovo, FC "Lokomotiv 1927", BFS, ZP of BFS – Veliko Tarnovo and OS of BFS – Gabrovo. The event, which is part of the Municipality's sports calendar, this year is under the patronage of the legend Plamen Nikolov and Blagoi Georgiev, with more famous football players from the recent past expected to visit the football event in the city of Kolyu Ficheto.
DJ Teddy George and DJ Theo will take care of the good mood and information about the program, matches, results, and teams. All meetings will be broadcast live by the Locomotive 1927 Club Team.
The Municipality urged the residents of Dryanovo to sign up and participate in this holiday event. They suggested that if any individual seeks further information about the event or for registration, call 0878 357 607 (Plamen Obreshkov) or write to fclokomotivdryanovo@abv.bg.
Furthermore, on August 5, the pool next to the Lokomotiv stadium opened its doors. Once the repairs of the locker rooms are complete, it is ready to welcome residents and guests of the city wishing to chill in the summer heat. Opening hours of the pool are every day from 10.00 to 18.00.
Since this season, the Municipality of Dryanovo has taken control of the pool itself; at its last meeting, the Municipal Council unanimously accepted the proposal to approve a statewide number.
At this stage, the children's pool cannot be commissioned. A public contract for a complete repair of the two pools is being prepared to be completed after the end of the season.
Here is a price list for its use:
Monday – Friday
Adults – 6lv
Kids from 7 to 18 years old – 4lv
Saturday – Sunday
Adults – 8 BGN
Children from 7 to 18 years – 6 BGN