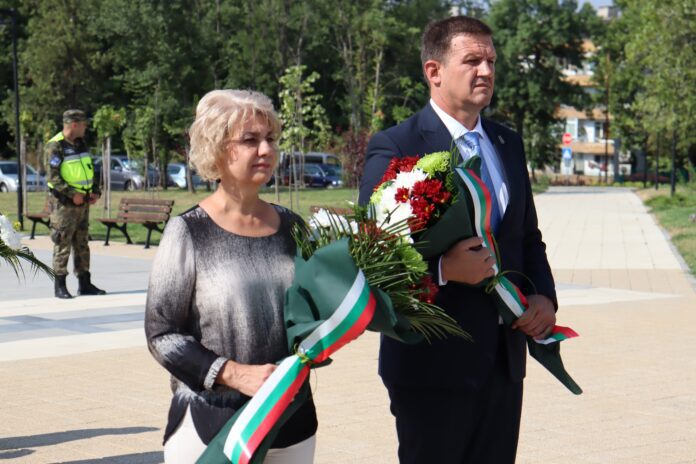 Haskovo, Bulgaria: The Haskovo municipality informs through its social media account that yesterday, August 2, 2023, Haskovo solemnly celebrates 120 years since the Ilinden-Transfiguration Uprising.
In front of the monument of the Tenth Infantry Rhodope Regiment, wreaths of appreciation to the Bulgarian Chetniks and Committees were presented by the Mayor of the Municipality of Haskovo Stanislav Dechev, the Chairman of the Haskovo Municipal Council, Tanya Zaharieva, the Regional Manager Ginka Raicheva, the Commander of the Military Formation Haskovo Sub-D Ivan Bonev, Deputy Regional Governor Mitko Petrov, Deputy Mayor of Haskovo Dinko Tenev, municipal councillors, representatives of political parties, patriotic organizations and citizens.
"Geographically, Haskovo is far from the burning rebel fields and bairas. But the Haskovlias are part of the brave Chetnik squads. They fight equally with their brothers from Adrienne and Macedonia, and with them, they spill Bulgarian blood on our exorcised land that has remained outside the borders of Bulgaria.
History has already given these heroic men the highest title and has called them the Macedonian-Odrian Revolutionaries from Haskovo," Mayor Stanislav Dechev said in his words. The Mayor cites the names of the voivodes Tane Nikolov, Nikola Koev – Mamin Kolyo, Peter Angelov and all the Chetniks from Haskovo who participated in the Mecodono-Odrine Obligation.
"Certainly, history has not recorded the names of all the Haskovites who fought with dignity and faith in Macedonia and Adriatic Thrace. But today, we are obliged to have the same power and courage to fulfil our duty to our hometown and Homeland with the dignity and faith of the Macedonian-Odrina revolutionaries! A bow in front of the heroes! Long live Bulgaria! "the Mayor of Haskovo, Stanislav Dechev, said.
The celebration of 120 years since the Ilinden-Transfiguration Uprising continued with performances of the National Orchestra in the Municipality of Haskovo with the leader Dimcho Yordanov.