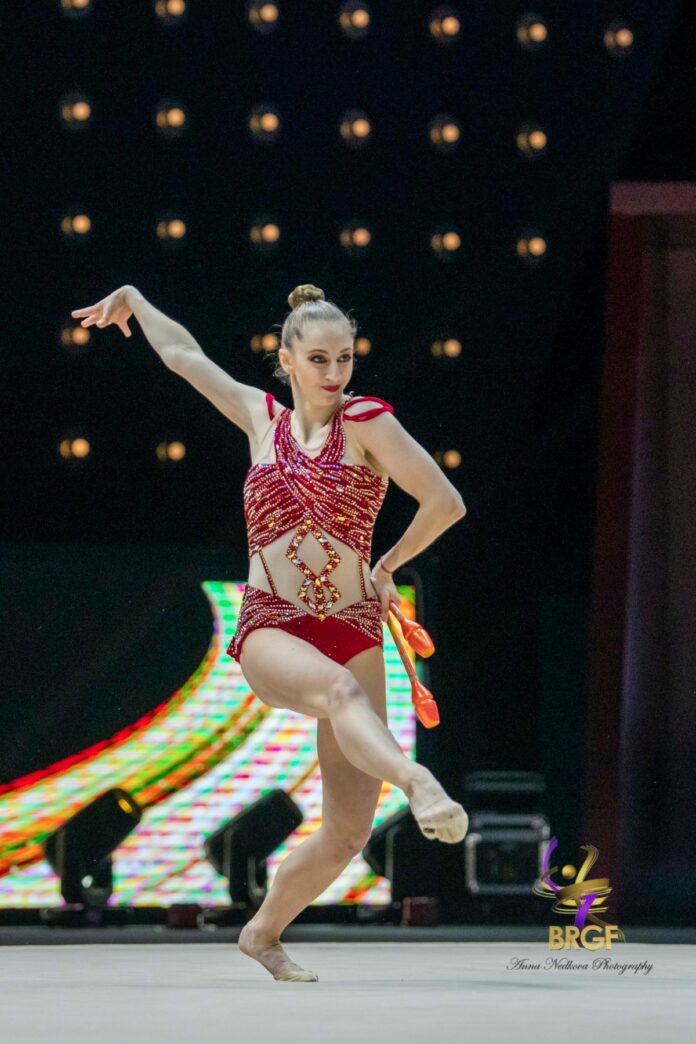 With the combinations of bats and tape ended the all-round / qualifications for the finals of the individual devices in the particular race at the 4th World Challenge Cup in Romania. Bulgaria is represented by national competitors Boryana Kalain and Eva Brezalieva.
Boryana Kalen took second place in the all-around standings with an asset of 130,850 (30,850 on hoop, 34,000 on ball, 34,200 on bats and 31,800 on tape). Brave and confident, we saw the absolute European champion on the carpet today and were deservedly congratulated with the silver medal.
Eva Brezalieva continued to "shine" at the BTArena in Cluj-Napoca and, with an asset of 126,850 (32,450 on hoop, 33,100 on ball, 30,150 on bats and 31,150 on tape), finished fifth place.
The gold medal for Italy's representative is Sofia Raffaelli, with a collection of 133,550 (35,450 on hoop, 31,550 on ball, 34,000 on bats and 32,550 on tape). Bronze went to Darius Bartholomeev of Germany with an asset of 127,600 (33,700 on hoop, 30,500 on ball, 32.050 on bats and 31,350 on tape).
Fourth position for Victoria Onoprienko from Ukraine with an asset of 126,900 (33,750 in hoop, 30,500 on ball, 32,850 on bats and 29,800 on tape).
Six out of eight possible finals for Bulgaria in the individual race. After the ball final, today Boryana Kalain added bat finals and tape. With 34.200 (D. 17,400; A. 8,550; E. 8,300) and the first result, Calaine found a place among the best eight at-bats. Buba enters the end of the tape with the second-highest rating of 31,800 (D. 15,000; A. 8,600; E. 8.250).
Eva Brezalieva also added a tape final after the hoop and ball finals. Estimate of 31,150 (D. 15,300; A. 8,250; And. 7.600) and third in the most robust rating, Eva found a place among the best eight and on the tape. Unfortunately, Brezalieva made a mistake in the combination of bats and was left without a final on this device.