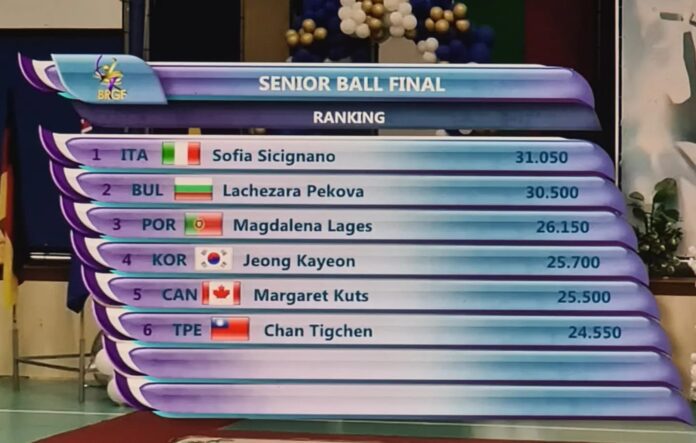 With the finals of the individual devices, the women's competition at the 3rd International FIG Rhythmic Gymnastics Tournament for the Juliet Shishmanova Prize was held this weekend at the Mladost Sports Hall, city. Berg. Bulgaria was represented at this age by national competitor Lachezara Pekova.
After the all-around gold medal, Luchi added three new honours – silver medals in the hoop, ball and bats finals and fourth place in the ribbon.
Sofia Sicignano (Italy) won gold medals in the hoop and ball finals. Taiwan's Tin-Chung Chan grabbed bronze in the hoop final, and a representative of Portugal – Magdalena Lages, won the bronze distinction of the ball.
Italy's other representative – Georgia Galli, won gold medals in the finals of bats and tape. Bronze on bats and ribbon went to Kaion John from the Republic of Korea—silver medal to Margaret Kutz from Canada in the strip final.
The Bulgarian rhythmic gymnasts Federation congratulated the team behind the brave Lioness lioness. They are, The Chief Referee of the International FIG Tournament is the BFHG Secretary General – Rosina Atanasova. The Chief Judge of the Accompanying International Tournament is Neviana Vladinova – Vice President of the BFHG.
The tournament referees are Maria Gigova – three-time world champion, honorary member of FIG and student of Julieta Shishmanova and Daniela Velcheva – Chairman of the Judicial Committee at the BFHG.
In Burgas, the President of the BFHG – Iliana Raeva, and the Director of the National Teams, Despa Katelieva, were also present at the race.