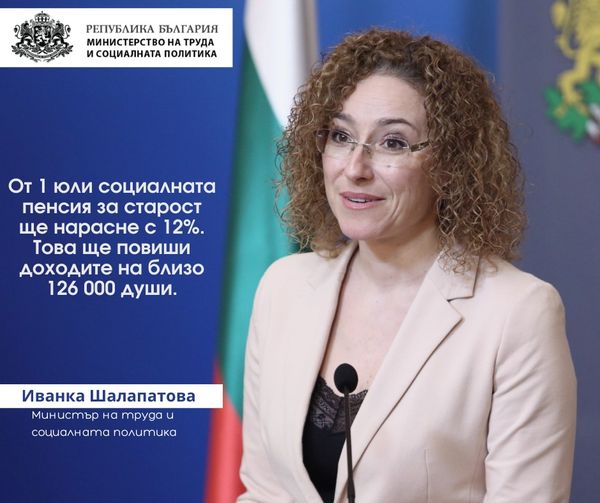 Sofia, Bulgaria: Ivanka Shalapatova, Minister of Labour and social policy Minister informed through his social media account that pension for old age will increase by 12% from July 1, 2023.
At a press briefing in the Council of Ministers, she announced the total amount would grow to 276.64 BGN, delivering financial aid to 126,000 people. It's an another step taken by the government to assist the old age group so they can fulfil their basic needs.
Minister Shalapatova pointed out that the change will lead to the growth of pensions that are not related to work, as their size is determined by the social old age pension.
These are the military and civil disability pensions, the social disability pension and the personal pension. The amounts of regularly established pension supplements will also increase – for foreign assistance and for war veterans.
According to the National Insurance Institute, the number of people receiving a non-work-related pension is 59,600 people. People with pension supplements, determined in the percentage of social assistance for old age, are 66,100.
Minister Shalapatova recalled that from July 1, all pensions granted by the end of 2022 will be updated at 12%. From the same date, the minimum pension for the whole insurance experience and age will increase from 467 BGN to 523.04 BGN.
The minimum old-age pension in the country is 200 BGN per month. From July 1, 2023, the amount will be increased to 276 BGN. The people of Bulgaria appreciate the efforts of the Ministry of Labor and Social Policy and Ivanka Shalapatova's efforts to raise the monthly payment for old age people to make their retirement comfortable.