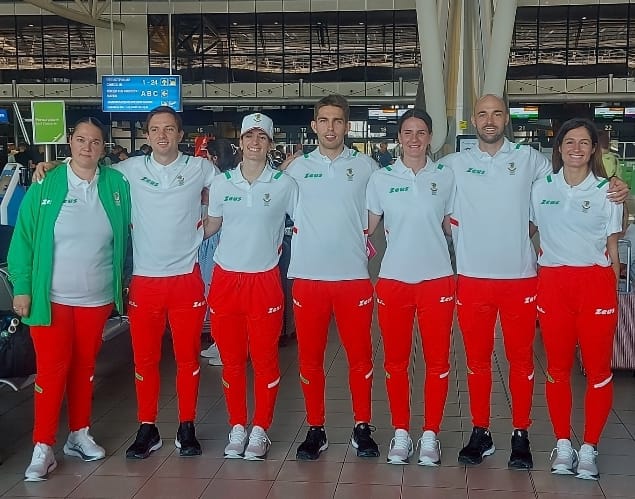 The Bulgarian Badminton Federation announced that Bulgarian Olympic Team won four of their five matches on the first day of the badminton tournament at the European Games Krakow-Małopolska 2023 Badminton Europe in Krakow (Poland).
The three-time European champions and gold medalists from the Baku 2015 European Games, Stephanie Stoeva and Gabriela Stoeva, successfully started in women's pairs. Sisters Stoevi dominated completely against the representatives of hosts Cornelia Marchak and Dominica Kvasnik and defeated them with 21:4, 21:6 in 24 minutes.
The next rivals of Stephanie and Gabriela Stoevi are Katie-Crit Maran and Helina Rutel from Estonia. The pair of men Ivan Rusev and Iliyan Stoynov defeated convincingly Gleb Beketov and Mikhailo Makhnovsky (Ukraine) with 21:9, 21:12 in 29 minutes.
In his first group stage match, Dimitar Yanakiev won against Danilo Bosniuk (Ukraine) with 21:6, 16:21, and 21:19 in 64 minutes after making a solid series at the end of the third game. Yanakiev's next rival will be Ade Reski Dvikahio from Azerbaijan.
Popovska won without a game after the rejection of her opponent Edith Urel ( Sweden). Tomorrow she plays against Polina Bugrova (Ukraine).
The only mixed couple, Hristomira Popovska and Iliyan Stoynov, suffered a defeat Yesterday. Stoinov and Popovska played very well but lost to the hosts' representatives, Pavel Smilovski and Magdalena Svirchinska (Poland), in a disputed match with 27:25, 12:21, 14:21 after nearly an hour of play.
In the Special Olympic Games taking place in Berlin (Germany), Tyanka Georgieva won the silver medal in badminton, and Stoyan Georgiev placed fourth.
Tyanka Georgieva and Stoyan Georgiev from St. Day Center annes Kozma and Damian " – Stara Zagora with their coach Sunchezar Tsankov Slanchezar Tsankov and team leader in Berlin Joanna Karapetridou performed excellently in their participation in the individual badminton tournament at the Special Olympics World Summer Games in Berlin.
Tyanka Georgieva played a final and won a silver medal, and Stoyan Georgiev placed in the prestigious fourth place. They are alumni of the Stara Zagora badminton club "TALANT" with chairman and coach Sunchezar Tsankov.
He has been preparing competitors since 2014, and this is the third Olympics where the competitors he is preparing have returned with medals.