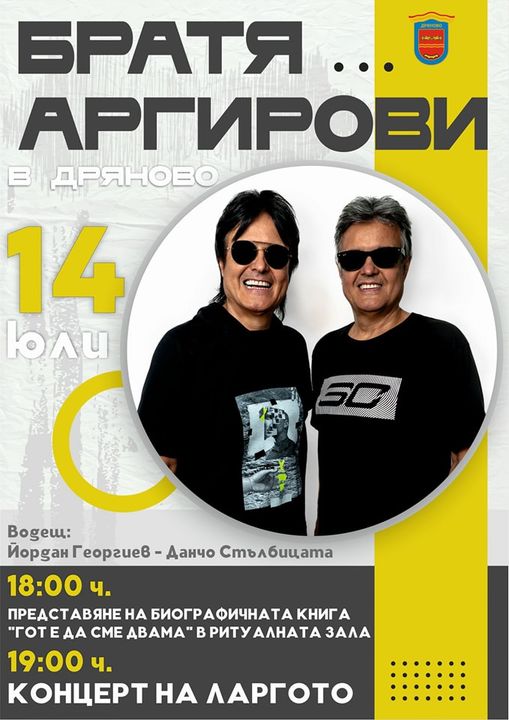 Dryanovo, Bulgaria: The Argirovi brothers come to Dryanovo for a concert and presentation of a biographical book. The beloved generations of Bulgarian singers Argirovi brothers will be special guests of Dryanovo on July 14, 2023.
Together with the legendary radio presenter, journalist and DJ Jordan Georgiev – Dancho Staircase, they will present their biographical book "It's Good to be Two" from 18:00, in the Ritual Hall of the Municipality of Dryanovo. Come and listen to curious stories from the colourful life path of Blagovest and Svetoslav Argirovi, talk to them and ask them questions.
On July 14, at 7 pm, the Argirovi brothers will delight the residents and guests of Dryanovo with a concert on the square. "The Largoto". The Dryanovo city will hear unforgettable hits such as "Spring Fatigue", "Until Yesterday", "From Monday", "Right at Five", "It's Hot", "Smells the Sea", and also new songs by duets. The Municipality announced through its social media platform that admission is free, and every citizen is invited.
The event is part of the summer cultural program of Dryanovo Municipality. It will continue the next day, July 15, when the Summer Theater Family Festival will take place in the city – creative workshops, puppet theatre, fun games, soap bubble show, comedy show, and more will be available for fun, specially designed for all age groups.
The first exhibition of Dryanovo beekeepers will also be held on July 15, Saturday. They will introduce the first honey of this year and other bee products. There will also be a quiz with prizes. The Municipality suggested that interested must begin preparing for the quiz.
The Municipality also reported that today from 6:00 pm on the square, "Kolyu Ficheto" will hold a festive concert on the occasion of the 10th anniversary of the establishment of the Anna-Folkart Association.
With the participation of students of the folk singer and vocal educator Ana Borisova, the National Orchestra at the Shiroka Laka National School of Folklore Arts and the Gumzovyani Dance Group at the Sobriety-1870 School – Sukhindol. The Dryanovo Municipality urged residents to enjoy lovely Bulgarian folk songs and dances.