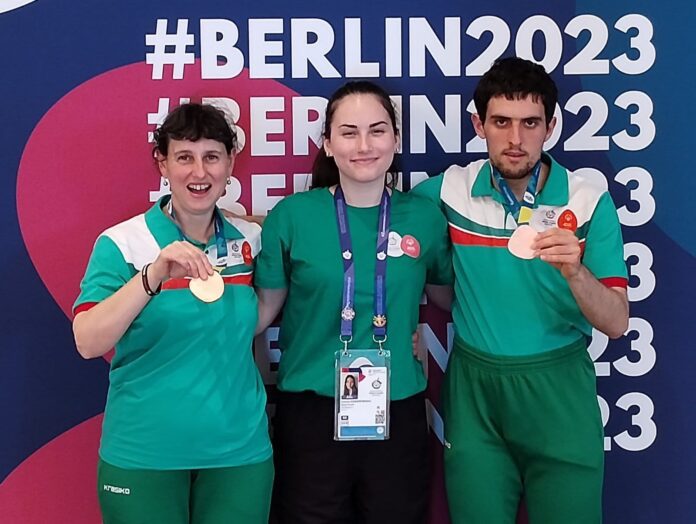 June 21, 2023, Berlin: The athletes from the badminton team of Special Olympics Bulgaria won a bronze medal after very tense finals in the mixed doubles division of the World Summer Games in Berlin '2023.
Tyanka Georgieva and Stoyan Georgiev fought 2-0 against the Special Olympics Palestine team after losing with the same result to the teams of Special Olympics Papua New Guinea and Special Olympics China. The matches were played on June 21, 2023, at the Messe Shopping Center in Berlin. Individual meetings for men and women are coming.
The Badminton Team of Special Olympics Bulgaria for the Berlin World Summer Games '2023 is from Stara Zagora. Tyanka Georgieva is 45. , and Stoyan Georgiev is 22. Both are participating in the World Summer Games for the first time.
The participation of Tyanka and Stoyan in the 2023 Berlin World Summer Games is thanks to the assistance of the Day Center for Adults with Mental Disabilities and Chronic Mental Problems "St. Annes Kozma and Damyan "in Stara Zagora and the dedicated work of coach Sunchezar Tsankov Slanchezar Tsankov.
The preparation of the athletes was carried out with the grant support of the badminton club in Stara Zagora. The Municipality of Stara Zagora also supports the participation of the athletes.
The national coach of the badminton team for the Berlin World Summer Games '2023 is Joanna Karapetridou. Joanna is a young coach of the Bulgarian Badminton Federation with an interest in the development of the sport for people with disabilities.
Her participation is a symbol of the long-standing partnership between Special Olympics Bulgaria and the Bulgarian Badminton Federation.