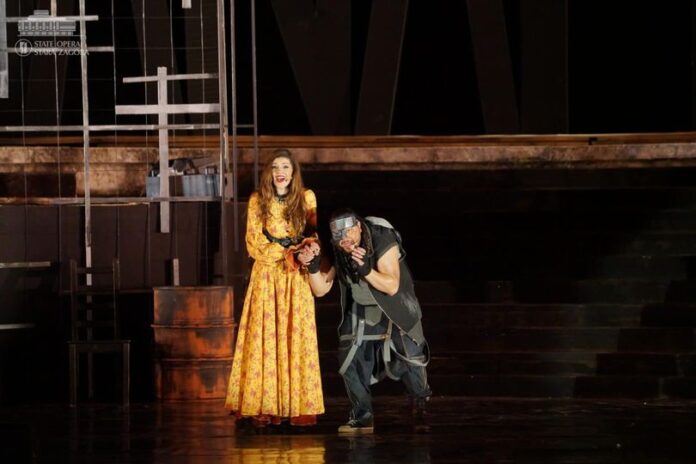 On April 19, Wednesday, at 7:00 pm in Hall 1 of the National Palace of Culture, the Sarrozagors Opera will present the captivating staging of the rock opera "Esmeralda-Paris Saint Virgin Mary" on the music of Ricardo Kocante.
The orchestra for a large symphony orchestra and rock band is by Ludmil Gorchev. Luke Plamondon wrote the libretto based on the novel by Victor Yugo.
Esmeralda's primary role will shine the beloved of small and big pop artist Michaela Fileva, who made her successful musical debut in the summer. Admirers and connoisseurs appreciated her artistic incarnation in the exceptional company of opera and ballet artists.
The performance is notable in addition to its scale and the incredible plastic and choreography of legendary Italian choreographer Mario Piazza, but also with its excellent solo composition.
Tenor Boris Taskov as Quasimodo strikes with his unique organism of performance and acting interpretation. In the face of Marin Rusinov, the audience will rediscover the perfect image of the most terrifying character in the history of Victor Hugo-Claude Frolo – presented with vocal and acting mastery.
Tenor Nikolay Motsov – is admirable in the role of Gregoir! Genuine pearls in the solo composition are the favourite soloists of the Musical Theater Bogomil Spirov / in the part of Feb / and Alexander Panayotov / Klopen /, as well as Gergana Nikolaeva, who shines in the role of Flor de Liz.
Last but not least – a brilliant and breathtaking performance of the magnificent ballet troupe of the Starozagorsk Opera led by the principal ballerina Silvia Tomova. A strong accent and a sought-after elegant contrast in a dramatic performance is the participation of children from the Children's and Youth Studio for Opera and Ballet.
They are also joined by the children of "We are Musicians" Christoslava Koleva and Ivan Bakoev – the new charming children stars of the Star Zagora Opera (with Down syndrome). The orchestra and choir of the Star Zagora Opera also participate.
Maestro Vladimir Boshnakov and chorus master Mladen Stanev will conduct the performance. The production was directed by Violeta Gorcheva, author of the Decor and Costumes Denis Ivanov.