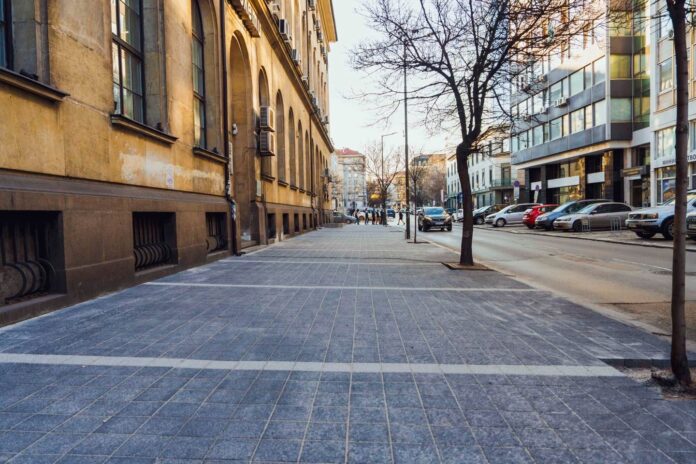 Bulgaria, Sofia: Georgi Valentinov Georgiev, chairman of the Metropolitan Municipal Council, informed that work on the renovation of sidewalks throughout Sofia continues even on Saturday and Sunday.
He stated that as the weather gets warmer, the implementation of Sofia's largest program for construction and repair of sidewalks in Sofia is in full force.
Chairman Georgiev shared a map of the capital's construction zone on social media yesterday, March 26, informing followers that sidewalk repairs are in progress. 
The municipality works on around 150 Sofia streets on Saturday and Sunday to finish the assignment as quickly as possible.
He shared the pictures of work done by Sofia's Municipality and wrote, "You see some of the first results of her on the street. Gene. Gurko and the street Deacon Ignatius, as well as on the street in front of 82 Primary School Vasil Aprilov in Gorublyane. During the weekend, work continues at 11 more locations in the areas "Mladost", "Lulin", "Renaissance", "Triadica", "Ovcha kupel", and more". 
A few months ago, the Metropolitan Municipal Council provided funds for investments to renovate 14 times as many sidewalks in the capital.
Chairman Georgiev also remarked that 1/3 of the funds we've secured are already allocated for management directly to district mayors, with 70% of mayors already signed contracts with construction firms of their choice.
"I expect others to take responsibility to the citizens and take advantage of the program as soon as possible to guarantee the European appearance of our city", said Georgiev. 
The Metropolitan Municipality is already executing the program for these sidewalks, for which it is responsible according to the allocation made with mayors of districts.
Georgiev thanked the Deputy Mayor of Public Works, Eng. Angel Djorgov and his team, led by Emiliyan Georgiev, who are the engine of the program's implementation.
To avoid repairing, the Municipality of Sofia have envisioned more people to be appointed to carry out on-site controls. The council also approved the urban environment standards prepared by chief architect Zdravkov, where what kind of flooring, materials and colours to be used. They are now mandatory for all new sidewalks.
The Council's chairman also mentioned that he prioritizes working on the most commonly used routes in the neighbourhoods that lead to public transport, schools, kindergartens, and health institutions.
He remarked that Municipality of Sofia also prepares an interactive map to introduce and monitor repair requests in real-time. It will provide information about the sidewalks throughout Sofia, which are to be renovated under the program.