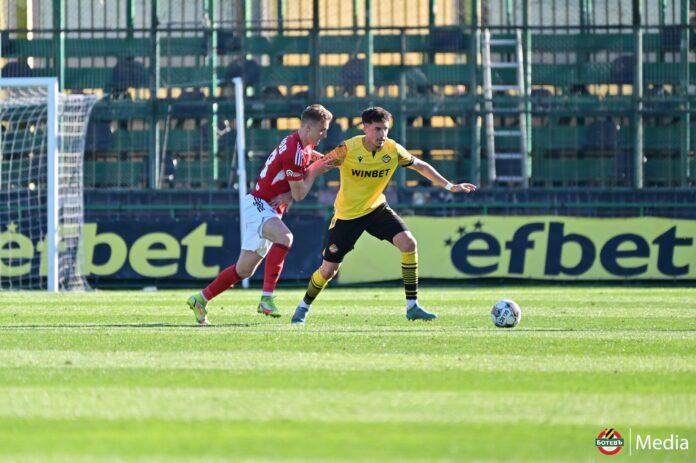 The duplicate team of Botev (Plovdiv) lost 1:3 to CSKA 1948 in a match in the 22nd round of the Second League. The duel was played at "Botev 1912 Football Complex".
The Canaries were unable to stand up to their rival, who, with their game, showed why they were in first place at the table. Antonio Perera reported for the "yellow blacks" in the first minutes.
Atanas Chernev suffered an injury on the roundup, and Kostadin Tatarov, born in 2005, started in the first-minute game. In the second minute, Stanislav Petkov's blow passed over the door.
In the 5th minute, born in 2007, Stefan Smerkalev received a strong blow. Still, in addition, Ivan Angelov scored for 0:1. In the 16th minute, a rough mistake in Plovdiv's defence led to a quick attack and a strike, with Nikola Neichev with a split preventing a secure goal.
Seconds later, Samuel Akere struck; the ball ricocheted into the defender and returned to the attacking player, who, with a powerful 20-yard shot, the goalkeeper 1:1. In the next minutes, the guests dropped several positions, and in the 39th minute of the penalty kick Pedrinho signed for 1:2.
After the break, the Capitalists had a game advantage, but it was challenging to reach clean goal positions. In the 64th minute, a good attack from the right ended with a sharp centring, and Marian Tonev increased the lead of the "reds" – 1:3.
By the end of the match, the "Army" was trying by all means to reach the fourth goal, being close to it on several occasions, but made a number of passes.
On the other hand, Botev (Plovdiv) football player Dimitar Papazov received a call to the Bulgarian youth national team under 18 years.
ла The defender joins Konstantin Pavlov and Kostadin Tatarov, who was also called to the "lions" camp.