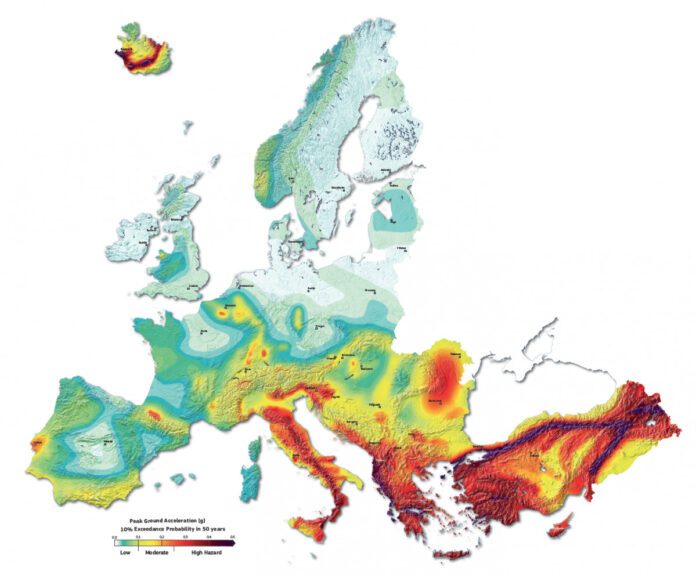 Gunther Fehlinger, an NGO runner and NATO affairs specialist, warned that the EU needs to be better prepared for earthquakes in Italy, Turkey, Greece, Bulgaria and Romania.
On his Twitter account, he noted, "Even though deadly seismic events are not as common in Europe as they are in other parts of the globe, powerful earthquakes occur relatively frequently.
EU, needs to be better prepared for earth quakes in Italy 🇮🇹 Balkans and Turkey 🇹🇷 and Greece 🇬🇷 Bulgaria 🇧🇬 and Romania 🇷🇴 @MajlindaBregu @EU_Commission @c_lindner add this @AdinaValean to #Eurobonds pic.twitter.com/a4glYp9pqB

— Gunther Fehlinger (@GunterFehlinger) February 12, 2023
He shared a seismic map of Europe which shows the threat of earthquakes in Europe, especially in Balkan nations near the Black sea. Fehlinger urged the EU to be prepared and put all disaster management services to be ready for an earthquake like Turkey.
According to the seismic map shared by Fehlinger, regions closer to the black sea, Bulgaria, Romania and Greece came under moderate hazard areas, Greece came under low and moderate hazard areas, and Turkey came under large hazard areas. is
After an earthquake hit Romania on February 14, threats of an earthquake increased in neighbouring nations like Bulgaria and Greece. As per The Weather Channel, An earthquake of magnitude 5.7 struck southwestern Romania on Tuesday, February 14. It was the most powerful earthquake observed in Romania since October 28, 2018.
According to Romanian weather researchers, the quake's epicentre was under 40 km in almost the same mountainous area as the magnitude 5.2 quake one day earlier.
Shockwaves were also observed in capital Bucharest, over a distance of 300 km southeast of the epicentre. No casualties were recorded due to the quake, but it caused damage to infrastructure and residential buildings near the centre.
Fehlinger stressed that its a warning call for Europe and Balkan regions to be prepared for earthquakes as a Turkey-like earthquake can strike any nation near to Balkan sea, such as Bulgaria, Romania or Greece.
The death toll has risen to 40,000 in Turkey due to consecutive earthquakes that struck Turkey on February 6. Even though Turkish tectonic plates not connected to Europe, Fehlinger urges Europe to be cautious in order to save human lives if disaster strikes.