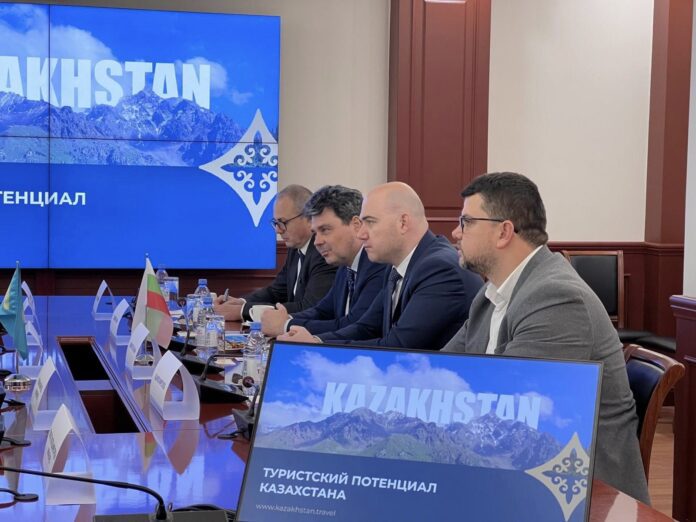 Ilin Dimitrov, Bulgarian Minister of Tourism, reported that his operational visit to the Republic of Kazakhstan and the Republic of Uzbekistan has ended. During the visit, he organised over ten meetings focusing on transport, tourism and tourism investments. 
He also appreciated Bulgarian diplomats in Kazakhstan – Ambassador N. B.C. Boyan Hadzhiev and Consul Plamen Petkov, and to the Head of Mission in Uzbekistan – Stoyana Rusinova.
Tourism Minister noted that Two huge countries with a total population of over 55 million people and a great attitude to Bulgaria are promising extreme markets.
Dimitrov explained his numerous activities in the Republic of Uzbekistan and Kazakhstan. Following is the list of actions he underlined during the meetings–
Dimitrov spoke with his colleague Dauren Askerbekovich Abaev, Minister of Culture and Sports of Kazakhstan. They expect him in Bulgaria in June to sign a memorandum.
With representatives of the Investment Committee of the Ministry of Foreign Affairs of Kazakhstan – Kazah Invest, a B2B forum to be organised at the exhibition in April
Meeting with Kazakhstan tour operators. In the talks, they emphasised that a "vacuum" had formed in the tourist market due to the absence of Russian and Ukrainian tourists. A request was made from over 15 tour operators for a webinar with Bulgarian companies, expected to hold in February
With the director of Kazakh Tourism – the state advertising enterprise. They are responsible for the creation and management of the Kazakhstan brand. Kazakh Tourism is highly digitised, and Dimitrov thinks he can gain a mutual experience.
With the CEO of Air Astana, 99% are ready to launch a direct line. Everything was prepared and stopped because of the pandemic.
 With the Director of the Uzbekistan Wine Production Agency, the meeting was at their invitation and the second one after being held in Bulgaria. The agency is also responsible for wine tourism in the country. They visited several of our cellars in December and insisted on a B2B online seminar. Bulgaria will organise it in March. 
With Asia Luxury, a tour operator with a charter program to Bulgaria. They have a great desire to increase their cooperation in the country. About 170,000 tourists are sent to Europe a year.
With Panorama Airways, a brand-new airline. They want to meet with the Ministry of Transport and start a regular line to Bulgaria. 
United meeting with Uzbek tour operators from Tashkent, Bukhara and Samarkand at our embassy. Bulgaria will include them in the webinar with Kazakhstan.
Meeting with the Minister of Culture and Tourism of Uzbekistan, Aziz Abduhakimov and his deputy Ulugbek Azamov.
Only 25% of graduates manage to enter Uzbekistan universities (private and state). They don't have the capacity. The training costs about $3,000 in private universities—a perfect opportunity for Bulgaria.