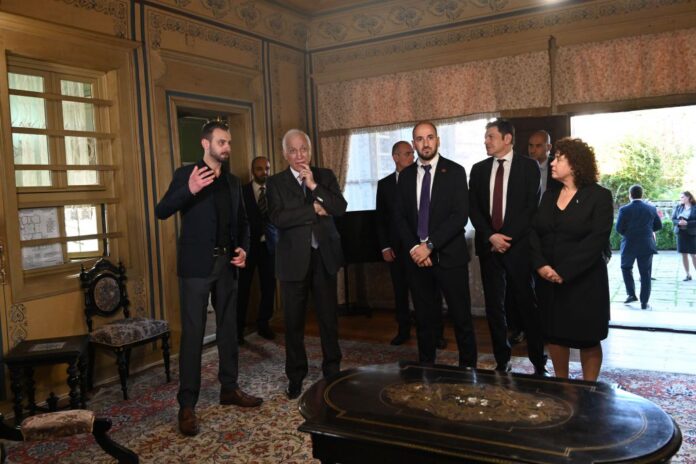 Yesterday, Vahagn Khachaturyan, the president of Armenia, paid a visit to Plovdiv. He met with Zdravko Dimitrov, the mayor, during the trip. The two discussed maintaining the Armenian community's identity over time in Bulgaria. The mayor underlined that Plovdiv had two mayors of Armenian descent and that the city had a considerable rise under their leadership.
Dimitrov explained that Plovdiv is the city of tolerance. He added, "Diran Parikian's restorations and excavations of the Old Town, the Ancient Theater, and the Roman Stadium helped to shape the city into its current appearance. Later, in the early days of democracy, respected doctor and public personality Garabed Tomasyan was elected as mayor of Plovdiv".
President Khachaturyan shared his views about the movement of people in the country. He expressed, "The size of the Armenian diaspora in Plovdiv makes me very happy. The fact that many of them are prominent individuals is an honour for us. We must protect our identity, which is accomplished through education, language, and religion. Additionally, Plovdiv and Bulgaria hold a unique place in Armenian textbooks".
The head of state of Armenia continued his visit to Plovdiv and conducted several meetings with local Armenians and tours of the Victoria and Krikor Tyutyunjian primary school, the Episcopal Basilica of Philippopolis, the Ancient Theater, the Hindliyan House, and the Armenian Apostolic Orthodox Church 'Surp Kevork'. In honour of the Armenians who have passed away, President Khachaturian placed a wreath at the memorial in front of the Armenian temple.
As part of the celebrations for the 30th anniversary of the beginning of bilateral diplomatic relations between Bulgaria and Armenia, which take place this year, President Rumen Radev has invited him to visit. Deputy Mayors Anesti Timchev, Velichko Rodopski, and Todor Chonov, as well as members of the Armenian delegation, also attended the meeting.