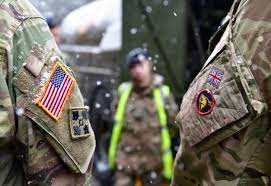 The Bulgarian and U.S. armies are progressing in setting up a new NATO multinational group. Due to a brutal invasion of Russia over Ukraine on February 22, which left the peaceful province of Ukraine in chaos, the allies agreed to strengthen the existence of NATO battlegroups in the Baltic regions and Poland.
The establishment consists of four new multinational battlegroups in Bulgaria, Hungary, Romania and Slovakia to strengthen Allied deterrence and defence. The main objective of building these multinational battlegroups is to ensure their security and freedom, solve problems, build trust and prevent conflict.
The new multinational battlegroup is being set up in Bulgaria with assistance from a team of experts from the U.S. Army's 4th Security Force Assistance Brigade (SFAB). They are developing the unit's standard operating procedures while collaborating with the Bulgarian 42nd Mechanized Battalion and a company of troops from the U.S. Army's 3rd Armoured Brigade Combat Team.
The soldiers had the chance to put their teamwork to the test by carrying out a joint operation with the size of a battalion during the annually Exercise Platinum Lion 22, directed by Bulgarian military personnel. Additionally, infantrymen from the Royal Irish Regiment of the British Army also participated in this exercise. The SFAB troops believe connections and trust are essential to creating a battlegroup, especially when a war on the continent has transformed European security.
In October, the Italian army will take command of the NATO battlegroup as the framework nation. Albania and the United States will contribute forces, and more countries are expected to join soon.
Recently, Bulgaria conducted a multinational fly exercise named Thracian vipers in the Black Sea region on August 8, 2022. The joint training Thracian Viper helped strengthen Alliance by providing Allied personnel with the expertise required to maintain security and stability in South Eastern Europe.